WS1800
Designed for small facility applications, WS1800 flexibility can meet any remote alarming and monitoring needs. Featuring an extended temperature range and low power consumption, remote management, and distributed reporting; the WS1800 brings situational awareness from the network edge to the entire organization.
Features and Benefits
Fully Featured
Compatible with all the major Network Management Systems
Distributed reporting
Serial pass-through or terminal server functionality
Low power consumption
SNMP, TL-1, TABS, TBOS northbound interfaces
Flexible
Rack mount or compact wall mount form factors available
Extended temperature range for extreme cold or hot weather
Available with 16 or 32 opto-isolated Discrete Inputs
Optional mid-point battery alarm
Wire wrap termination is also available
Ability to add carrier board (Ethernet switch, modem, etc.)
Provisioning Made Easy
Visual LED display for Discrete Digital Inputs and Outputs
Remote and Local Firmware management
Remote and Local configuration management
50 pin CHAMP style connector is pin to pin compatible with legacy Westronic products
Specifications
Chassis

CPU:
16 bit, 40 MHz x86 Microcontroller
Power (V):
-48VDC (-24VDC available on request)
Power Consumption:
35-40mA idle, < 100mA maximum @ -48VDC
Operating Voltage Range:
-40 to -60 VDC

Rackmount

Dimensions (H x W x D):
1.75" x 17.38" x 7.5"
(4.45 cm x 44.15 cm x 19.1 cm)
Weight:
5.1 lbs (2.31 kg)
Termination Interface:
50 pin AMP connector
Operating Voltage Range:
-40 to -60 VDC

Wallmount

Dimensions (H x W x D):
7.63" x 10.19" x 1.13"
(19.38 cm x 25.88 cm x 8.08 cm)
Weight:
2.6 lbs (1.2 kg)
Termination Interface:
50 pin AMP connector
Wire wrap posts
LED Indicators:
Power, CPU Run, LAN activity, all Discrete Inputs and Control Outputs
Additional Capabilities
Analog Inputs.
Remote configuration.
Remote firmware upgrade.
Mid-Point Battery Monitoring
Simply monitoring the overall plant voltage from your sites isn't enough to ensure a timely response to developing battery problems. By the time site voltage levels start to drop, its too late. In many cases, you have less than 8 hours to repair battery cells and/or strings before complete failure of the battery occurs, which likely means service interruption.
Individual cells within a battery string can start to break down long before the problem is apparent in terms of plant voltage. If left unchecked, this can eventually lead to 'runaway' conditions causing heating, as well as generation of hydrogen gases that can explode. Thermal runaway can also create H2S gassing which is very corrosive and will damage equipment within the cabinet. The breakdown of a cell is initially indicated by a fluctuation in voltage, but this small fluctuation is indistinguishable when only the overall plant voltage is being measured. Westronic has addressed this problem by providing mid-point battery measurement, which can detect an imbalance between the two string segments, and report user defined threshold levels as alarms to the Network Operations Center. This proactive approach can help operations and maintenance personnel address the problems before they become catastrophic. This protects the capital investment and can help to reduce service outages caused by battery problems.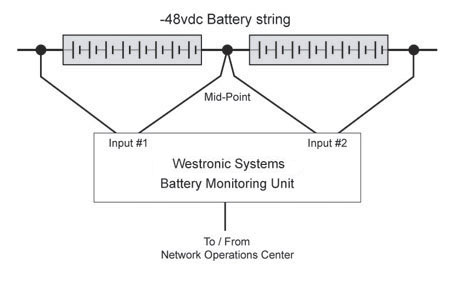 Westronic Systems provides intelligent management solutions for network operators to proactively manage the battery plant in their sites. These solutions include integrated Central Office (CO) and Outside Plant (OSP) platforms that include the following capabilities:
Up to four battery strings (Eight 0-60vdc analog inputs)

Screw terminals for the analog (battery) connections

Battery string voltage measurement

User configuration for the overall string voltage with 4 threshold alarm settings

Battery mid-point voltage measurement

User configuration for the differential setting available for 2 threshold alarm settings for each battery string
User defined deadband value to prevent the alarms from going in and out of alarm